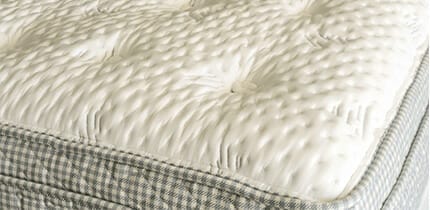 JUST SLEEP: UNIQUE MATTRESS DESIGNS BASED ON LATEST SLEEP SCIENCE
After much research and testing, Dr. Hall delivers three champion JUST SLEEP mattresse designs with optimum comfort and support along with state of the art bilayer incased coil technology**. All mattresses are different, but share one commonality, above and beyond EXCELLENCE in mattress design. JUST SLEEP mattresses combine layer upon layer of synergistic foams and organic certified wool, transitioning the perfect ultra-comfortable support with our luxurious topper which seemlessly cradles your body with silk-like elegance and comfort*. Our highly breathable Tencel topper is hand tuffted, durable, antimicrobial, and dustmite resistant. This Farm to Home Certified Organic plushness is the perfect fit for intelligently supportive hand-crafted comfort.
*The Tencel topper is included with every Ultimate and Premium mattress. **The Bilayer Coil system is included with every Ultimate and Premium mattress.
JUST SLEEP Ultimate Firmness Level Options
Plush, Medium or Firm
JUST SLEEP Premium Comfort Levels
Medium
Firm
JUST SLEEP Organic Comfort Levels
Medium
Nice Bonus No Other Mattress Companies can provide: Purchasing a JUST SLEEP mattress entitles you to an absolutely free, personal 10-minute consultation with Dr. Hall. You can call customer service to set up your appointment. You can discuss your choice in mattress, your sleep habits, your questions about how to improve your sleep and any other pertinent questions you may have.
EXCELLENT BREATHABILITY AND PRESSURE RELIEF
In the ULTIMATE and PREMIUM designs,  the "built-in topper" is the 3″ Tencel masterpiece, a luscious 3" plush, silky, hand-tufted, breathable, elegant, organically derived masterpiece that is luxurious and sustainable.
The various layers of the Ultimate and Premium mattresses are made from Talalay Latex, the "best of the best" natural latex which is anti-microbial, dust mite resistant, hypoallergenic and Oeko-Tec Certified for no off-gassing of VOCs as well as being non-toxic. The Talalay latex is actually 33% more pressure relieving and 7X more breathable than memory foam.  Also, according to the Talalay Global website: Cornell Indentation testing proves (Latex International) Talalay Latex is 20x more durable than leading Memory Foam.
This unique combination of the absolute best topper in the industry along with Talalay latex (in the Ultimate and Premium models) for beathable support, permeability and airflow create the perfect mattress for your sleep and temperature control night after night.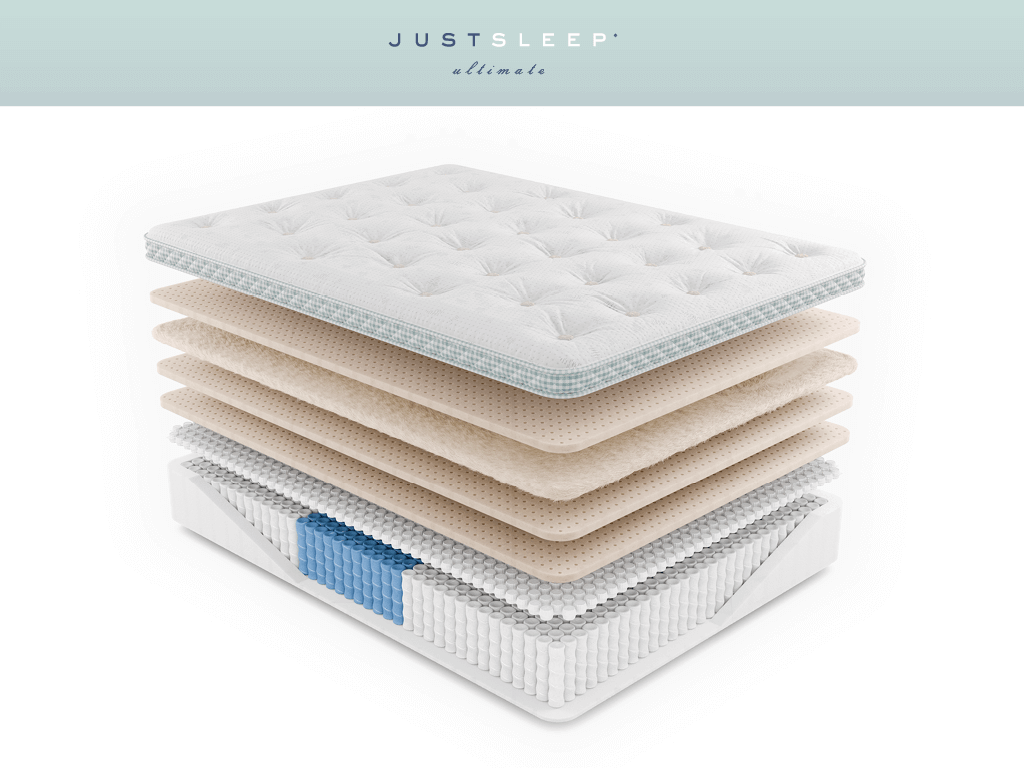 JUST SLEEP MATERIALS
A lot of mattresses available today are from the old classic memory foams based on unhealthy crude oil. This type of foam produces often produces heat right next to your body and also can releasetoxic VOC off-gasses.
You'll find no off gassing or toxic foam chemicals  in JUST SLEEP mattresses.
• All JUST SLEEP foams are either CertiPUR and/or Oeko Tech certified.
• JUST SLEEP foams have zero harmful metals, gases, or toxic substances.
• JUST SLEEP foams exclusively use plant-based foams near your body in the PREMIUM and
Dr. Hall encourages all consumers to research the negative effects of traditional memory foam products to help you make informed decisions in the search for the right bedding solution.
MADE IN AMERICA
The JUST SLEEP mattress collection is made in America. This means you're getting first-rate mattresses that have undergone meticulous quality control for that unmatched breathability, support, and comfort.
THE JUST SLEEP DIFFERENCE
JUST SLEEP's exclusive, cutting-edge designs are unlike anything you'll find among online mattress selections today. Experience the difference— get a JUST SLEEP mattress today.
BEST MATTRESS FOR BACK PAIN: A LOOK AT THE BREAKTHROUGH DESIGN
WE'VE GOT THE REST COVERED™

In regards to BACK PAIN, sleeping on a great, supportive mattress for back pain is essential! With JUST SLEEP, you have the absolute best materials for support as well as the ultimate in luxury.
A mattress that's too firm causes pain and misalignment by irritating sensitive pressure points and not allowing normal spinal curves. A mattress too soft causes you to spend the whole night sinking into the bed creating poor sleep posture which usually causes back pain. That's not to mention the numerous consequences you get from low-quality sleep— stress, hypertension, compromised immune system, unstable moods, memory issues… the list is endless.
As a sleep and spine specialist for over 37 years, Dr. Hall knows this all too well. He has treated more than 12,000 people for back and neck complaints and has seen first-hand what a poor mattress can do to the body. This inspired him to select three revolutionary mattresses that are customized for each sleeper, providing flawless temperature regulation, pressure relief, support, and blissful comfort.
The result of 37 years of understanding sleep and the spine, Dr Hall's pursuit of excellence and desire to help people live better lives culminates with his newest line of mattresses. You must experience the JUST SLEEP difference for yourself!