FIVE unique reasons to choose a JUST
SLEEP
mattress
Intelligently Designed Mattresses for Your Best Night's Sleep Ever!
100 NIGHT, RISK-FREE TRIAL
If you are not fully satisfied with your JUST SLEEP mattress, we will do one of two things: 1) Charge you $400 for an exchange of the same mattress line and size with a different firmness, or 3) Refund 100% of your payment minus a provision fee of $600 for a complete return. In either of the two options. We do ask you to keep your JUST SLEEP mattress for the entire 100 night trial period before commencing with any of the options as there is a natural break-in period will help your body to adjust to the mattress to achieve perfect synchronicity.
Our knowledgeable, experienced, and highly-trained customer service specialists are standing by to answer any comments or questions you might have during the 100-day trial period.
HIGHEST QUALITY AT THE LOWEST PRICE
JUST SLEEP mattresses will cost you literally half of what you'll pay for other high-end luxury mattress products. We are fortunate to be able to take out the commissioned "middleman" and have our manufacturer ship directly to you. We pass both of the above savings onto you.
FREE GROUND SHIPPING
We ship our JUST SLEEP "Premium" and our JUST SLEEP "Organic" anywhere in the contiguous US for FREE, using UPS or FEDEX ground shipping.
The JUST SLEEP "Ultimate" is eligible for FREE SHIPPING in the Los Angeles area. Due to the Ultimate's 17" thickness, it cannot be boxed so needs to be delivered via truck without compression in its original state. In the LA area, we proudly utilize our white glove service to remove your old mattress (if you wish) and carry your new mattress to the room of your choice. We do this for free in the LA area whereas many companies charge well over $200 for the same service. Of course the Ultimate can be shipped flat anywhere in the contiguous US via ground transportation but the cost ranges from $300 to $800 dollars depending on which state it is being delivered. If outside LA area and interested in the ULTIMATE, please call 310-924-1954 for a shipping quote.
Bottom-line, in regards to the JS ULTIMATE, we needed to pack a full incredible top of the line hybrid system into 17 inches of heaven, combining the two-level coil system with the true Ultimate in mattress design featuring the Tencel topper, the three layers of latex, and the thick layer of organic wool to create this masterpiece in mattress design.
EXPERIENCE THE JUST SLEEP DIFFERENCE
You sleep on your bed one-third of your life and much of the quality of your life depends on the quality of your sleep. Dr Hall, the founder and CEO of JUST SLEEP BEDS and PILLO1 states that the three most important things you can do to improve the quality of your life, both mentally and physically, is one: Get good, quality sleep- ranging from 7 to 8 hours per night for the average adult and 9 to 10 hours for children and teenagers. The second most important thing is a good diet that is rich in vegetables, fiber and protein and decrease sugars in our diets. The third is proper exercise and the fourth most important thing is a positive mental attitude that is nourished with kindness, and giving to others.
PROPER sleep begins with your mattress and is also dependent on your pillow and good sleep hygiene. Sleep definitely is the most important factor to improve the quality of your life and a great mattress has a direct positive impact on your quality of sleep.
JUSTSLEEP mattresses are specially designed to give you a good night's sleep, reducing heat and improving circulation, reducing stress and strain on your spine and surrounding musculature and improve your overall quality of sleep. One of Dr Hall's trademarked logos from years of being in the bedding industry is "Improving your life through Better Sleep™". Ready to learn more? Contact us today by calling 310-924-1954 or send us an email via the link at the contact/support section below.
INTELLIGENT WAYS TO COMPARE MATTRESSES
We realize there is a lot of competition out there and the majority are making inexpensive, poorly made mattresses and making them sound like they are top of the line. JUST SLEEP really suggests you compare and contrast the quality of the mattress you're researching. To really drill down and compare, look at the four most important factors: 1) The materials used, i.e., types of foam and coverings. 2) Price. 3) See what the height of the mattress is (we do NOT suggest less than 12") and 4) see how they are designed for spinal health, i.e., do they have variable zones for support and comfort.
In looking at the materials/foams used, a consistent sign of a cheap mattress with poor support, unhealthy off-gassing and very poor durability, is the primary use of polyurethane, an oil-based product that they use in cheap memory foam and other highly synthetic foams. Often, they have a decent looking cover and do some good marketing. Don't get pulled into the low pricing frenzy as those mattresses usually start breaking down and loose there support within the first year. The old saying is so true, "you get what you pay for"… Yes, it's possible to get the best mattress in the industry without breaking the bank! Buy a JUST SLEEP mattress today!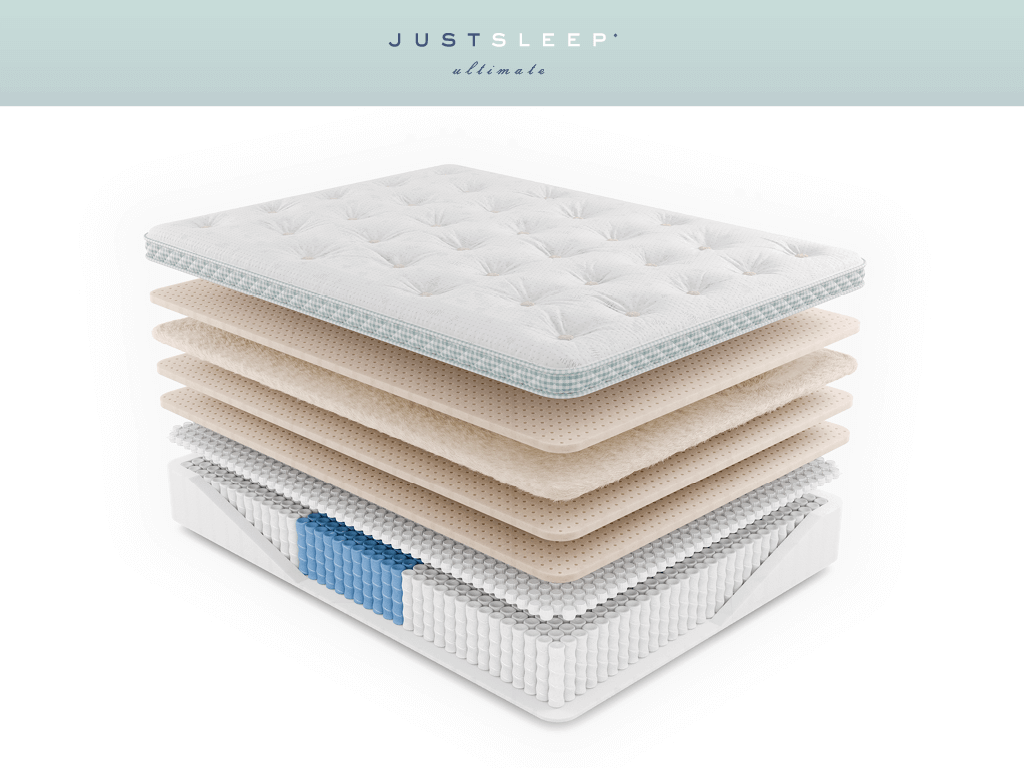 Meet the Founder Dr Raymond Hall
Author, inventor, lecturer, sleep specialist, educator and practicing Doctor of Chiropractic
From the creator of the revolutionary Pillo1, experience the best mattress for lower back pain and side sleepers
DR RAYMOND HALL, DC FOUNDER OF JUST SLEEP
DR. RAYMOND HALL, A SPINE AND SLEEP SPECIALIST AND HONORED AS THE TOP CHIROPRACTOR IN CALIFORNIA INVENTED AND PATENTED PILLO1
[more]
DR RAYMOND HALL, DC FOUNDER OF JUST SLEEP
---
Dr. Raymond Hall, a spine and sleep specialist and honored as the Top Chiropractor in California invented and patented PILLO1 and then after many requests from customers across the globe, began to develop JUST SLEEP mattress company in 2015 and now has three new exceptional lines as seen above. For over 37 years, he has been examining and treating people just like you for a variety of serious spinal issues including back and neck pain. He has seen first-hand how much a poor mattress can interfere with quality sleep and cause bodily discomfort and has created a mission to "Improve your Life Through Better Sleep."
Thanks to his experience, Dr. Hall completely understands the importance of finding the best mattress for lower back pain and spine support. Because of this, Dr. Hall began his quest to provide the ultimate mattress that will give sleepers personalized support, temperature regulation, and pressure relief night every single time they go to bed.
The result? JUST SLEEP mattresses, hand-crafted elegance, support and comfort, based and consistent with all the principals and beliefs Dr. Hall has researched, lectured and promulgated in regards to ultimate comfort and support!
FREE, PERSONAL CONSULTATION WITH DR. HALL
HERE'S AN EXCLUSIVE PERK WHEN YOU BUY A JUST SLEEP MATTRESS— A TOTALLY FREE, 10-MINUTE PERSONAL PHONE CONSULTATION WITH DR. HALL HIMSELF...
[more]
FREE, PERSONAL CONSULTATION WITH DR. HALL
---
Here's an exclusive perk when you buy a JUST SLEEP mattress— a totally free, 10-minute personal phone consultation with Dr. Hall himself!
As a sleep and spine specialist, Dr. Hall believes that there's no one-size-fits-all when it comes to finding the best mattress for lower back pain and side sleeper. He will go above and beyond to make sure that you and your JUST SLEEP mattress are the right match.
Just give us a call in customer service within the first 100 days of buying your JUST SLEEP mattress, and we'll set up an appointment for you to have a 10 minute discussion with Dr. Hall!!
risk-free 100 night trial >>

The JUST SLEEP Value
— Always Free Shipping —

Made in the USA
We have searched for and found literally the best mattress manufacturer in the country that matches our values and mission. Unmatched Quality Control. Guaranteed.

NO MIDDLE MAN
Shipped directly from our manufacturer to your door.

AFFORDABLE
1/2 the cost of similar mattresses found in stores.

100-NIGHT RISK FREE TRIAL
Purchase today and try our mattress for 100 nights, risk free!!

PERFECT OPTIONS
Our selection is unmatched! You can order the JUST SLEEP Ultimate, the Premium or the JUST SLEEP Organic in any of the common sizes from Twin all the way to a King! We also have various firmness' for your size, needs and preferences. Customize your mattress and sleep soundly ever-after!

Sched. Appt. for In-Store Demo in LA
Buy Now