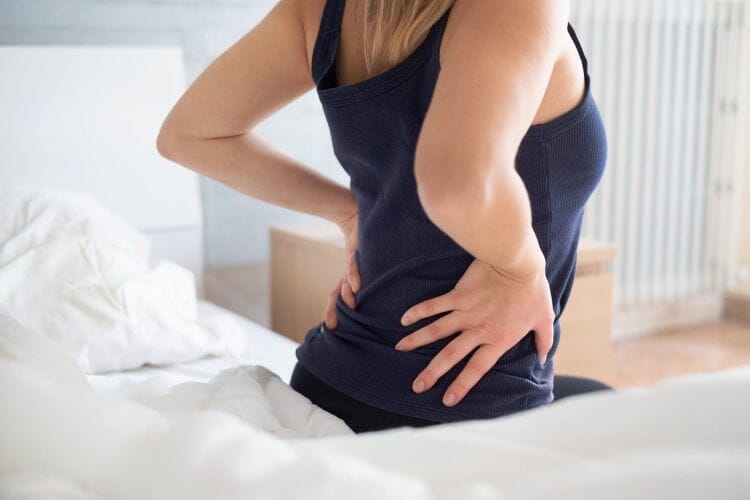 BOOST THE QUALITY OF YOUR SLEEP WITH THE BEST MATTRESS FOR LOWER BACK PAIN SUFFERERS
After more than 30 years of practice as a sleep specialist and seeing over 10,000 patients, I know that back pain can be a devastating condition. Many individuals experience frequent sleep disruptions due to constant discomfort. In fact, in the U.S alone, millions of adults suffer from chronic back pain. This is why as people get older, choosing the best mattress for lower back pain sufferers becomes an important decision.
SELECTING THE RIGHT MATTRESS
Choosing the right mattress can be a significant financial investment. A comfortable, supportive mattress can significantly reduce the aches and pains during your sleep. This allows you to enjoy better sleep quality and be well-rested for the next day.
Lower back pain sufferers should consider several factors in selecting the right mattress, including:
Material construction
Firmness and thickness of the mattress
Individual's weight and preferred sleeping position
A good mattress should be able to support your body in a neutral position. This means that it should support proper alignment of your head, shoulders, buttocks, and heals, and keep the curvature of your spine.
Throughout the years, I have spent time and effort in crafting a mattress that would bring pain relief to every individual.  With the innovative JUST SLEEP mattress, you now have a good option for cutting down on nighttime sleep disruptions.
THE JUST SLEEP MATTRESS DIFFERENCE
After years of research into sleep science, I have perfected the revolutionary Tri and Quadra Foam design for our JUST SLEEP Premium and Select mattresses. Every mattress in our selection has a precise function.
INSTANT RELIEF
The support and relief that every JUST SLEEP Premium bed provides make it the best mattress for lower back pain side sleeper , reinvigorating you properly for a new day. Our JUST SLEEP mattresses offer comfort, excellent pressure relief, and breathability. JUST SLEEP Premium mattresses are made of four innovative foams that provide deep support:
Coconut Bio Foam which provides 200% more airflow than classic memory foam. It guarantees breathability, comfort, and durability that last for many years.
US-made Talalay Latex Support Layer which relieves pressure by 33% more than regular foam.
High-Resiliency Base Foams which boasts of a durable foundation, Certi-PUR certification, and guaranteed long service life.
IMPROVED POSTURE
Several studies have been conducted in the fields of anatomy, chiropractic, and biomechanics on the significance of adequate lumbar support during sleep. Research shows that numerous factors can affect your posture including:
Joint stiffness
Poor ergonomics
Muscle tightness
Occupational demands
Among others
In an effort to contribute to improving sleep quality, I have designed the JUST SLEEP Select mattress. This mattress is specifically designed to help correct posture by relieving the pressure on the body, allowing it to return to its normal form. It is designed with advanced thick layers of comfort and support:
Pure-Gel Infused Memory Foam Layer with gel elastic recoil for excellent pressure relief and increased comfort. This memory foam is highly-resilient and pushes back to maintain healthy spine curvature.
Supporting Foam Layers for increased body support. All three layers have Certi-Pur certification.
UNINTERRUPTED SLEEP
As people get older, they prefer mattresses that absorb minimal heat and allow them to sleep fairly cool. To help you get uninterrupted sleep, our JUST SLEEP Premium mattress comes with a Coconut Bio Foam top layer that reduces heat buildup. With an easy air flow, you get hours of sound, uninterrupted sleep.
IMPROVED SLEEP QUALITY
Apart from the heat, the main reason one wakes up in the middle of the night is tossing and turning. With JUST SLEEP Premium mattress's Coconut "open cell" Biofoam, you can say goodbye to restless nights. The secret lies in the foam's open cell, which has the ability to relieve pressure.
REFRESH AND RECHARGE WITH JUST SLEEP
Here at JUST SLEEP, we work with you to figure out the right type of mattress for your specific needs and body type. To help you find the perfect JUST SLEEP mattress for your situation, every purchase includes a free, 10-minute personal phone consultation with me, plus a 100-night risk-free trial and more.
Make your health a priority by investing in the best memory foam mattress for back pain. All you need is to JUST SLEEP – We've Got the REST covered!
Dr. Raymond Hall, DC
Inventor, Author, Sleep and Spine Expert and practicing Chiropractic Physician